How to Conquer the Married Put Strategy (A Simple Guide)
This article will delve into the intricacies of my best married put strategy and discuss how you, as a trader, can use this strategy to hedge your portfolio.
A married put is an option strategy in which the options trader buys an at-the-money put option while simultaneously buying an equivalent number of shares of the underlying stock.
A trader would enter into this position when they are bullish on a stock, want the benefits of stock ownership (dividends, voting rights, etc.), but they are wary of uncertainties in the near term.
Don't worry if this doesn't make sense at first, we will dive into the specifics of the married put strategy bellow.
The Basics of a Married Put
A married put is a lot like an insurance policy on a home: You purchase your home (the stock) but also insurance (the put) in case the home is damaged (the stock price plummets).
A married put refers to the combination of two different purchases: one of a stock position and one of a put option.
Let's consider the following purchase.
Let's say you choose to buy 100 shares of XYZ for $20 per share and one XYZ September $17.50 put for $0.50 (100 shares x $0.50 = $50).
With this combination, you have purchased a stock position with a cost of $20/share but have also bought a form of insurance to protect yourself in case the stock declines below $17.50 before the expiration (third Friday in September).
You should remember that for a put to be considered "married," the put and the stock must be bought on the same day, and you must instruct your broker that the stock you have just purchased will be delivered if the put is exercised.
---
A message from our Sponsor:
[Free eBook] Start Trading Options The Simple Way
If you want another great options guide then I recommend downloading Bill Poulos' "Simple Options Trading For Beginners" guide.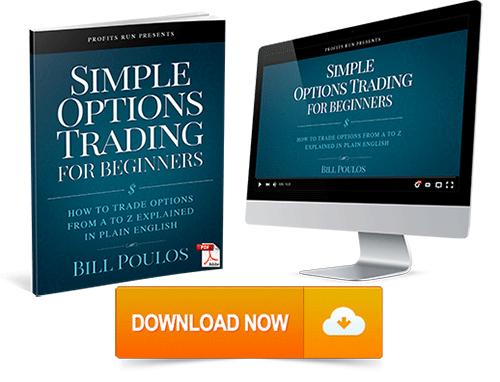 This research report will NOT be free forever. Download your copy for free before we list it for sale.
Tap here to get your FREE copy now
---
The Payoff of a Married Put
The profit potential of a married put is the same as a long call's, the married put is also known as a synthetic long call.
The formula for calculating is:

Maximum profit = unlimited

Profit achieved when price of Underlying > Purchase price of underlying + Premium paid

Profit = Price of Underlying – Purchase Price of Underlying – Premium Paid
By utilizing a married put, a trader is able to limit the risk of their position. The formula for calculating maximum loss is given below:

Maximum loss = Premium paid + Commissions Paid

Maximum loss occurs when price of underlying <= Strike price of long put
Breakeven Level for a Married Put Strategy:

Breakeven Point = Purchase Price of the Underlying Security + Put Option Premium
When to use a Married Put
A married put strategy is very useful when purchasing a security in which you have a bullish outlook, but the security has experienced or will experience possible volatility.
By utilizing the married put, you are shielding yourself from significant losses.
The downside to the married put strategy is that it is costly to implement across your entire portfolio.
Therefore, it is important to be deliberate in your choice of security to apply this strategy towards.
Married Put Example
Let's go back in time to January 2 where the price of General Electric stock is sitting at $17.75. 
You decide to purchase 200 shares of General Electric at $17.75/share as well as two February $16.75 puts for $0.25 ($25 per contract).
You have also told your broker that you intend for this to be a married put transaction, so let's consider whether this position makes for a good trade.
In any transaction, you have to gauge your exposure, or your risk. In the given example, you have a total cash outlay of $3,600.
You have paid $3,550 for the stock and $50 for your insurance policy.
If the stock goes up above $18, you are now in a profit position on paper and won't have to consider the put option because it will expire worthless.
If, however, General Electric plummets, then the value of the insurance quickly becomes apparent.
Let's see what happens to the stock come February:
You were faced with a stock value of $14.25 at the February expiry, you would be looking at a loss of $250 (200 X [18.00-16.75]).
Contrast this with the loss you would have incurred without the married put strategy: $700 (200 X [17.75-14.25]).
The price drops significantly as the put contract comes to its expiration, so we utilize our put contract and have protected $450 of our investment.
As you can see, by utilizing a married put strategy a trader is able to significantly decrease their risk exposure and therefore decrease their losses.
Conclusion
A married put strategy can be an extremely useful as a financial insurance policy on any of your trades.
By utilizing this strategy, a trader is able to minimize their losses while also taking on a bullish position.
The married put strategy is an important hedging tactic that every options trader should understand.
We wish you the best on all your future trading endeavors.