Renko Charts: How to Use Them for Profit
Using Renko Charts When Trading Forex
Perhaps the most popular Forex charting style is the Japanese candlestick patterns.
Veteran traders are familiar with this, and they base their decisions on the candlestick's movements.
However, there are other graphs that traders can rely on, and one of them is the Renko Chart.
This particular chart also displays the price movements of a financial instrument, but instead of candlesticks, it uses blocks.
These blocks can represent either bearish or bullish reading just like on the candlestick charts.
Renko Charts Introduction
Renko charts have blocks of the same size, and the reason for this is because they don't consider time as factor for trading.
The graphs of Renko have a setting parameter that specifies the pips taken for each block.
The parameters come with a default value of 10 pips, which means that the next block wouldn't be formed until the price action creates a decrease or increase of at least 10 pips.
That said, the development of the succeeding block of a Renko chart takes an indefinite period of time.
It can develop in a few seconds, an hour, a day, or even a whole week.
No one knows when it will come, although it will be exactly the number of pips that a trader specified on the Renko parameter.
Below is an example of a Renko chart: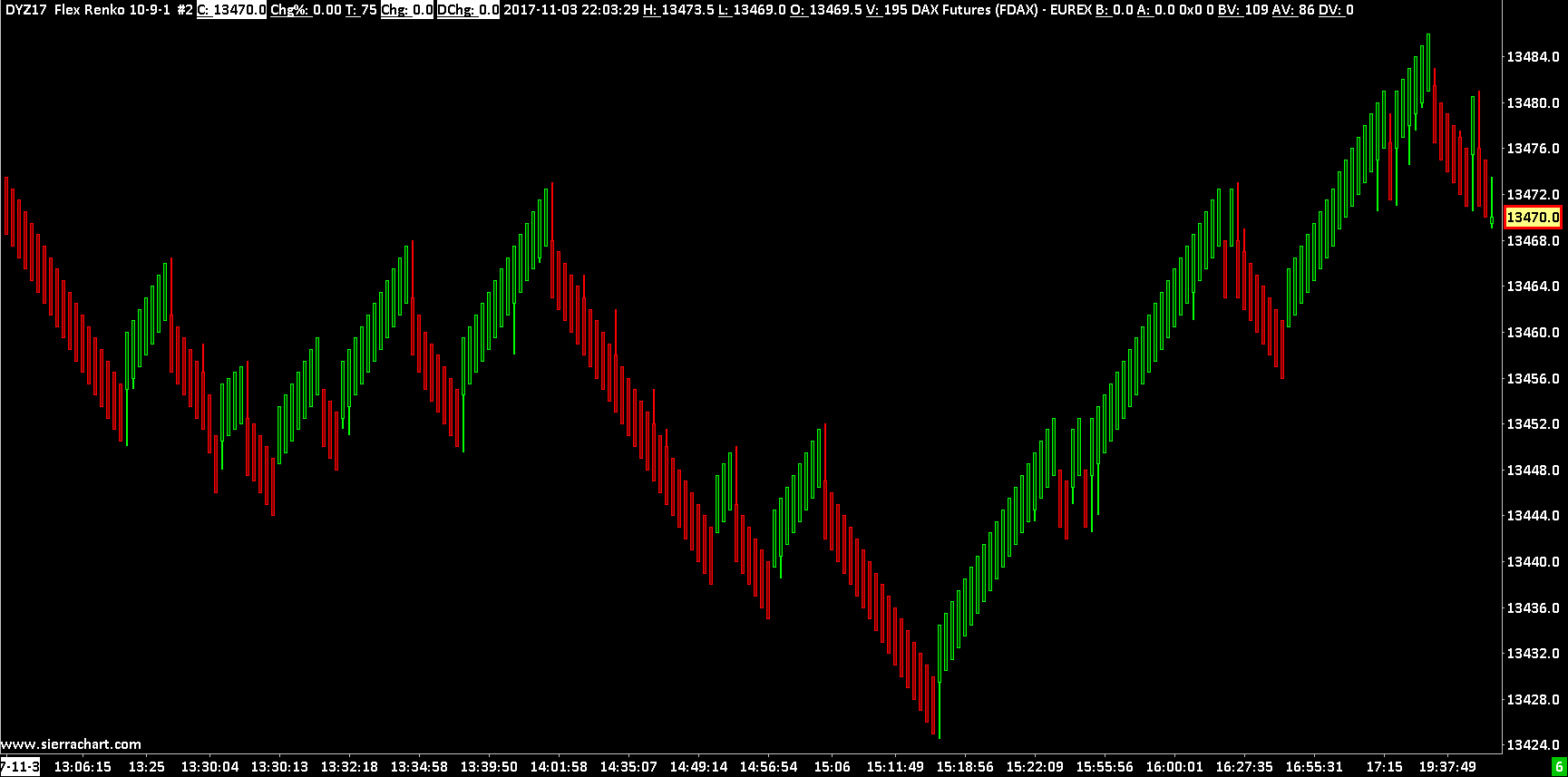 — image credit: Sierra Chart
If you're a veteran Forex trader, you'll notice Renko has a similar approach with Heikin Ashi, which is an adaptation of the candlestick charts that are calculated based on a close, open, low, and high formula.
However, their similarity starts and ends only in showing price trends.
Renko charts differ from Heikin Ashi charts in terms of its build using the price of currency, while Heikin Ashi considers time as an important modifier to reading the charts.
Due to noise being non-existent with price bricks that consider time, it's easier to use Renko charts strategies in Forex trading.
Just an important reminder: Renko charts aren't the best tools for Forex trading.
There's no single, best graph to look at for trading.
Renko charts are merely alternatives to other graphs that give traders a different perspective on price trends.
When should I use Renko charts?
Traders should view Renko charts as some sort of "checker" to what the other graphs are saying. If a trader is unsure of his or her decision based on one graph, Renko charts can be used as back up.
Renko charts provide more data than Heikin Ashi, and it will be useful when you're not considering the time-frame of price movements in your trading.
Due to Renko's nature of movement, key trading points that can be easily missed on other graphs are seen on Renko charts.
Traders may use Renko charts not only in Forex but also reading the historical price charts of stocks.
For investors who like to use price action, Renko is one of the best charts to use because they show everything that a price is doing from its resistance to support levels.
How to use Renko charts?
In order to use and read Renko charts, you must first choose an underlying pairing (e.g. USD/EUR) and pick a minimum price fluctuation.
If the pairing experiences a rise and fall in prices based on what you specified, then the chart will put a block in order to mark the adjustment.
By following a pair's volatility, traders can effectively identify the price movements of currency pairs.
The shifting of prices presented on Renko charts serve as signals on whether or not it's a good time to purchase currencies or sell them.
FXCM suggests that with a market as large as Forex, finding a buyer when you're selling, and a seller when you're buying, is much easier than with the other financial markets.
The only difficulty that traders will face when using Renko charts is if the pairing is relatively flat.
If it isn't showing any signs of volatility, the blocks may take a bit of time to materialize.
If the currency pair's prices are moving swiftly, then the blocks should also form quickly and help traders make a decision to buy or sell.
Why should you use Renko charts?
There are many different reasons for using Renko charts but below are some good reasons to utilize this form of graph.
Price uncertainty
In some charts, the uncertainty of currencies refers to those that fluctuate endlessly.
This can be spotted by Renko charts where the blocks specify prices that are going up and down.
The benefit of Renko charts with price uncertainty is that you can easily spot areas of indecisiveness.
If you have a good working knowledge on technical analysis, you may carefully monitor the price action, and check why the currency is behaving erratically.
Pull backs
Several Forex trading gurus give tips on how to effectively exchange pull backs.
However, in truth, this strategy can be difficult to master unless you are 100% sure with your style.
The pull backs in Renko charts will be easier to see because they don't require a lot of preconception in spotting trends.
Trading prospects
A swing or scalp trader can benefit from Renko charts because the graphs present several ways to trade. You can take revenues every several ticks, and win using certain trends. Renko charts will make trading easier, and it all depends on the minimum price fluctuation that you've set.
Conclusion
Renko charts will help you spot signals that are useful in making inference-based decisions. Renko charts are just one of the many technical tools that you can use, and you will benefit from looking into other methods as well. As always, trading currency pairs carry some risk so make sure to trade with due diligence, and consult with a financial adviser if you're losing too often. Renko charts are great to look at if you're searching for a different way to view currency pairings. If you are eager to explore a lot of data before making any trading decision, you can see trends that only Renko charts can present to traders.
-J